About the Studio
Over the Top Games is the independent game development studio behind the multi-award winning game for Wii, NyxQuest. The team is formed by 6 passionate developers. Their team mission is to create games that contain that special *magic* that stands out above all else.
Our New Game
Full Mojo Rampage
Full Mojo Rampage is a fast-paced exploration and action game that takes place within the confines of the Voodoo reality. In this realm only the most powerful rites and powers can provide safeguard against evil. It includes cooperative and competitive gameplay, so you can enjoy the game in different ways with your friends.
More details
Welcome to the world of Full Mojo Rampage were you get to control a Voodoo keeper throughout his adventures. As the player you'll need to guide him safely through each level whilst hunting for voodoo dolls and mojos. These mojos can be found throughout the game in the form of amulets that bring him strength and luck. They also unleash an array of other powers that you can craft to your own advantage in order to truly master the terrible powers of Voodoo.
Currently in Alpha
The game is currently in closed alpha but will soon move to open alpha and be available for those that pre-order the game. We will post updates in our blog regarding development and upcoming features.
Videos
Images
download all screenshots & photos as .zip (4MB)
There are far more images available for Over the Top Games, but these are the ones we felt would be most useful to you. If you have specific requests, please do contact us!
Logo & Icon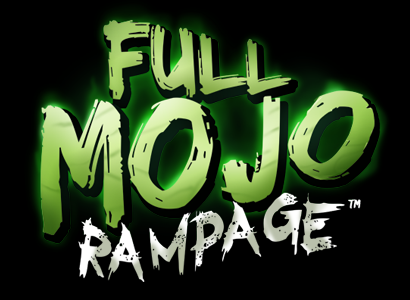 Additional Links
Full Mojo Rampage
Learn more about Full Mojo Rampage in our About section fullmojorampage.com.
Team & Repeating
Collaborators
Contact
presskit() by Rami Ismail (Vlambeer) - also thanks to these fine folks